What's " Takoyaki " ??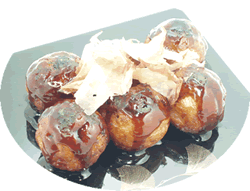 Takoayaki widly enjoyed festival and casual food in Japan.

People enjoy this mouth-watering food as a snack and
occasional as meal. At summer festivals and fireworks this is an must item.

Hanabi has an authentic Japanese Takoyaki grill to
ensure our custors enjoy the same quality product in Japan.
The crispy outer shell is gently deep friend and the internal texture
is soft and creamy as it is absorbed by your tongue.
This texture consists of selected flour, egg, milk and water.
The octopus pieces welcome your teeth and fascinates more bites.

Hanabi imports special octopus just for Takoyaki.
Tako is rich in energy and taurine it a healthy food.
This handsome Takoyaki is garnished with green laver,
dried bonito flakes, and the number one signature Takoyaki
sause is directly imported from Japan.

The combination of these toppings seduses your tongue
into enjoying another Takoyaki.

Satisfaction Guarateed !